I used to hate beetroot. Now, salad with beet and goat cheese is one of my favorite meals and a good choice when visiting a restaurant. And I must add, that it is also one of the possible choices in restaurants for me, since goat cheese is the only cheese I can eat. But not to be boring, this time I made balls from the beet. I would like to remind you that the recipe involves a lot of grating, which started to annoy me pretty soon, but then I said to myself that I am already halfway, so I finished it. Not to mention that everything ended up being pink, and with everything I mean the whole kitchen, me, my iPhone which I used to shoot instastories with and our child, which is already able to move and sometimes it seems like the purpose of his living is to look for dirt and distribute it around the whole house.
If this intro has not discouraged you, keep reading. I'm stating the exact quantities of ingredients I have used, which was enough for about 25 balls. So if you want to make a dinner for two, I recommend you to reduce the quantities.
RECIPE
Beet balls
600 g of beetroot (grated)
250 g of sweet potatoes (grated)
1 red onion (finely chopped)
2 cloves of garlic (minced)
1 chili pepper (finely chopped), or dried chili
2 eggs
a handful of fresh or dried basil (chopped)
1/2 cup of chickpea flour
1/2 cup of rolled oats (gluetenfree if needed)
salt and pepper
Dressing
1 tablespoon of olive oil
2 teaspoons of tahini
1 tablespoon of almond butter
juice of 1/2 lemon
salt and spices
optional
Optional ingredients
greens according to preference – rucola, mixed lettuce leaves, fresh spinach and the like
goat cheese or halloumi cheese, or whatever cheese you like
Walnuts, pinenuts, or cashew nuts
sesame seeds, or chiaseeds, for example
if necessary, even chicken breasts
Preheat oven to 180° C. Mix grated beet, sweet potatoes, onions and garlic together. Add two eggs, basil, chicken flour and oatmeal and mix well. Leave for 15 minutes in the refrigerator, let it all stick together. Then mould balls out of the batter, always squeezing out the juice. Put it in the oven. I roasted it for about an hour, the balls should be crunchy outside but not burned.
At the end of roasting we put pieces of cheese on top of the balls and let it melt.  Serve warm on fresh green leaves, in the case of histamine intolerance not spinach leaves, sprinkle with nuts, seeds and dressing . My husband needs to eat meat with almost everything, so he ate his salad with roasted chicken breasts and he enjoyed it. At least I got him to eat some vegetables this way … ?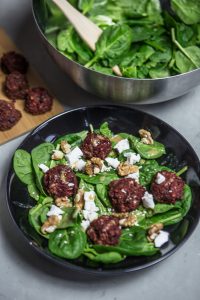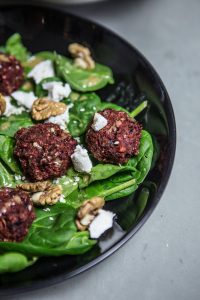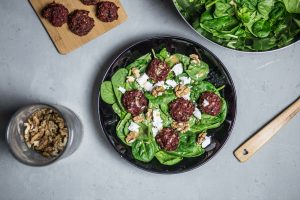 Bon appétit!